Hi.
Here's the product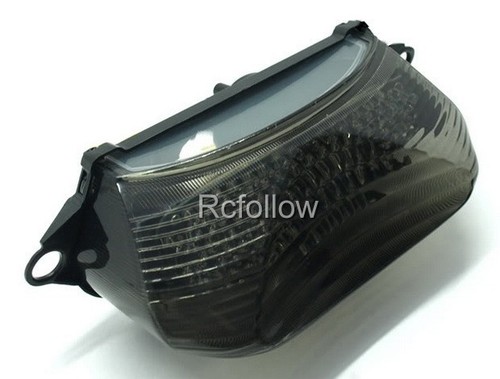 First off, I won't be using the turn signals in this integrated light because I recon they don't properly show which way you're turning. (also, I don't fancy them really)
Now to the fun part, wiring diagrams...
So I've got a -97 storm, and I found a nice wiring diagram here on the forums and it looks something like this:
Removed the old Taillight but left the bulbs in place just to see how they're wired.
Measured on them and figured the middle cable going to the connector is ground, the sides must be signal and +12v respectively.
So to figure out which one was which I simply measured the passing voltage and got the green+yellow is the +12v. There for the green should be signal.
So, here's my problem..
Bike wiring:
- Green/Yellow
- Brown
- Green
LED wiring:
- Green
- Red
- Black
I got the lights to lit up, but as soon as i break (depending on my wiring) i get two outcomes:
- License plate lighting lits up [Green->Brown, Black -> Green, Red -> +12v]
or
- Ground fault effectively shutting of the lights until i release the break. [Green -> Green, Black -> Brown, Red -> +12v]
In case my english is complete rubbish, here's where I'm at now.
https://youtu.be/ghWeTXKKyc8
My conclusion is that the break light is always on, the turn signals work but the position+license light is inactive.
Also the obvious ground fault in this video.
Any idea how to patch these two wiring systems together?
Here's a picture of the original connector and the 3 main wires from the LED light (Note: I did not receive a connector from the taillight manufacturers):
Edit: I'm sorry for any Swedish people reading up on this realizing I've written sort of the same question in that forum. I was hoping I'd done enough research and written a good enough post for Tweety to be in the mood to help a poor lad out, but I realized I'll be going to the garage this evening and It's the last opportunity I have to fix this before the UK trip next week.. So hope that's alright for all Swedish people reading up on this