Hey all,
Just recently started riding with earplugs in in a bid to reduce the noise inside the helmet at higher speeds. They've made a big difference and even with all the vents open noise is now MUCH reduced. However, it also blocks out much of the sound from the standard exhaust silencers.
I had been half looking at getting new cans and I was going to try 450mm Hawk oval exhausts (made by PipeWerx) but they currently have a lead time of four weeks. Ride time is scarce as it is and I didn't wish to wait that long before enjoying the sound of a V-twin again (half the reason I bought a Firestorm) so I took a bit of a punt (this was Friday and I wanted them for the weekend) and bought a set of high mount cans from Black Widow.
TBH, I wasn't expecting much as they are cheap but they've been fine so far. How well they last with time is another thing but they have a two year warranty so if I get that long out of them I won't be complaining.
-ive:
The clamps aren't great; M6 bolts aren't up to the job of clamping tight enough and I've had to replace them (the bolts, not the clamps) as they were bending trying to get things tight enough. One of the four joins blows ever so slightly but they are all dry, I could use the exhaust paste supplied but I'll grab some better clamps first.
In fact, the supplied hardware/fixings are all a bit cheap and soft with head sizes that are never a tight fit with tool size.
The heat shields aren't anything fancy and a bit thin.
PITA trying to get everything lined up and tightened (doesn't help that the link pipes do not attach to the rear footrests like the original Honda items).
+ive:
Exhaust hangers are nice thick aluminium.
The pipework (link and cans) look to be decent quality (certianly better than I expected for the money)
Black Widow branding on the cans comes off super easy (sort of a metal foil sticker)
Sounds nice (these are 400mm cans, and I've yet to try them with the baffles out). When cruising there's a nice gentle grumble, lovely subtle pops on the overrun and plenty loud enough when you're asking the engine to work.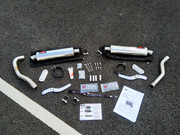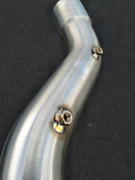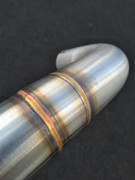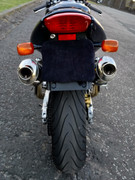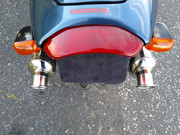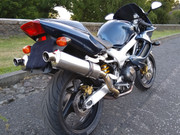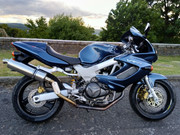 Think my fuel economy has gone down though....not sure why