I have been playing with the jetting again after fitting the VTR cams, here are the results.
I did go for an overall leaner setup after the last dyno run results & have been leaning out the mix as it was showing excessive richness across the graph/run.
I felt the jetting was quite close with the current settings, so popped to the rolling road to see what's what.
Here's the setup I used for the dyno run with VTR cams.
Pilot screw
Front------1 3/4 turn out.
Rear-------1 3/4 turns out.
Pilot jets
Front------#48
Rear-------#48
Needles
Dynojet needles fitted (same profile as Std but with the option of different heights).
Front------Clip in 3rd groove from top + 0.7mm washer under clip.
Rear-------Clip in 3rd groove from top + 0.7mm washer under clip..
Mains
Front------#172
Rear-------#175
Slide holes
Std 2 + Dynojet 1
Front-------3 open.
Rear--------3 open.
CV diaphragm springs
Dynojet (short ones)
Air filter
Std paper
Ducati velocity stack mod
VTR cams
TPS
500 ohm's
Porting
Finger porting

.
Intake has been (de flashed) cleaned with 180 grit up to the valve guide & intake rubber trimmed tidily for a seamless transition from carb to head.
This pick shows the increase over the Varadero cams V's VTR cams.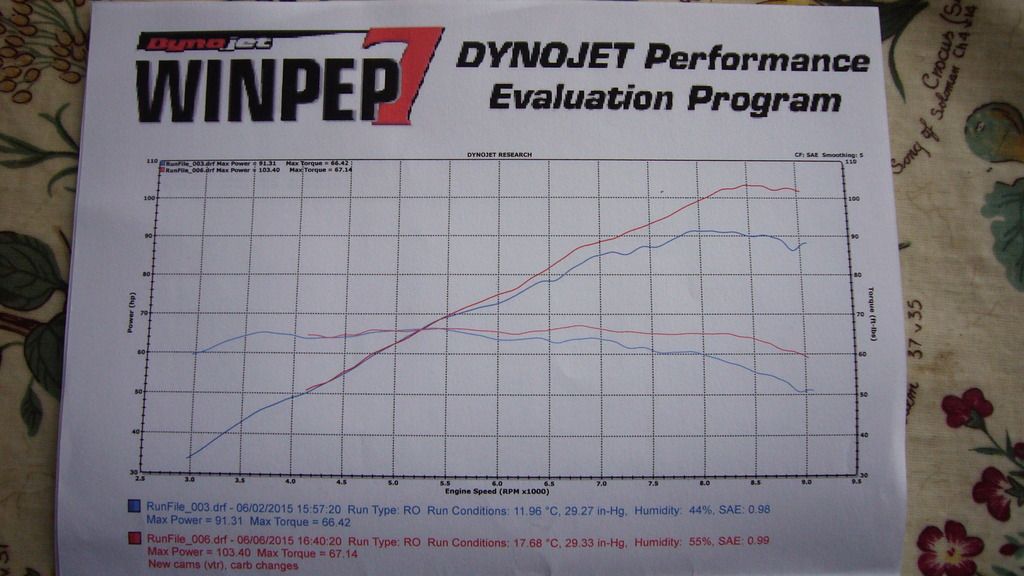 This is the fuelling, the lower two blue lines are the previous (rich) Varadero setup against the (leanish) VTR setup.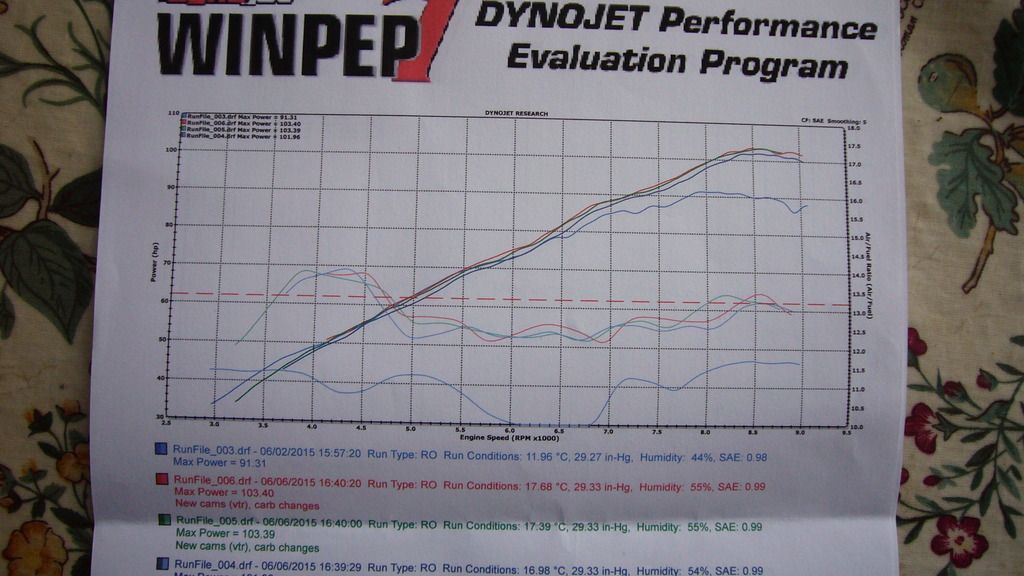 Looking at the results of the fuel map the new base line plan is to try this below.
(Richen the top end) Mains back to 175 front, 178 rear.
(Lean the midrange) Lower the
needle
a clip.
(Richen bottom end) 2 3/4 out on both fuel screws.
Over all, I am quite impressed with the results